About Panel Master
Panel Master was founded in 1985 to produce control panels for industrial applications. From the beginning Panel Master focused on quality and craftsmanship. This tradition is a Panel Master hallmark.
Mission Statement
We are keenly aware that everything that we make and sell has but one purpose - to help our customers improve the quality and the efficiency with which they manufacture their products. Therefore, it is our mission at Panel Master to encourage customer and employee involvement in the never-ending quest for a partnership that produces quality products, in a timely manner, delivered to our customers with pride.

It is our responsibility

to provide an environment that is conducive to the growth and safety of our company, the community and our employees.
Beginnings
Panel Master began in our founder, Don Leetch's garage. From the beginning Panel Master was a family affair. Don's wife did the books and Don built the panels. Our first employee was John Hrnchar, became Don's son-in-law. John is now our most senior project manager and manages our LaGrange production facility.
Milestones
1985 - Panel Master founded in a garage in Avon, Ohio
1987 - Panel Master moves to its first building on Miller Road in Avon, OH
1989 - Panel Master moves to production facilities on Sugar Lane in Elyria, Ohio.
1995 - Panel Master builds production facility in LaGrange, Ohio.
2000 - Panel Master expands its production facility 50% to accommodate growing customer demand.
2007 - Panel Master Acquired by Watts Control Group LLC,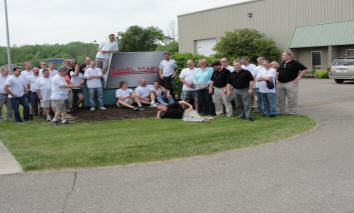 Panel Master production facility in LaGrange, Ohio
From our purpose built production facility in North Central Ohio, Panel Master uses lean production techniques to provide the best control systems possible. This facility provides production space, paint and warehouse facilities.